DW Cloud™ Simplifies Everything.
The DW Cloud™ service makes connecting to and managing DW Spectrum® IPVMS system(s) simple. Set up in seconds. Connect from anywhere. Share with an unlimited number of users.
Connect. View. Manage. Scale.
DW Cloud™ is a public cloud application hosted on Amazon AWS that enables simple remote connectivity, streaming and management of one or an unlimited number of DW Spectrum® IPVMS systems.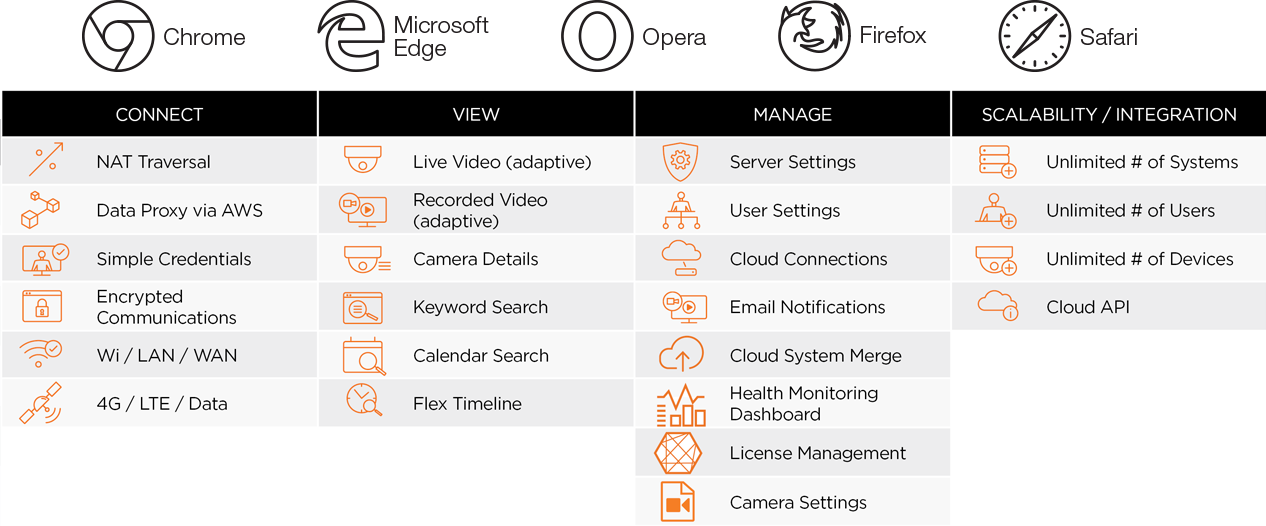 Scalability
Number of Connected Systems: Unlimited
Number of Users: Unlimited
DW Cloud™ Services
Cloud Connect
Connect any DW Spectrum® IPVMS System to DW Cloud™ for simple remote connectivity
from anywhere using NAT Traversal and Cloud Data Proxy technology.
Add an unlimited number of users to a single DW Cloud™ system.
Share access to your DW Cloud™ system in seconds using only email addresses.
Create custom roles to simply and quickly assign access to multiple DW Cloud™ connected systems.
Developer Tools
Cloud API: Available Upon Request
DW Cloud™ Features
Connectivity
NAT Traversal: Connect directly to proxied Blackjack® servers
Cloud Data Proxy: Connect via AWS cloud proxy service
Interface Tabs
Systems: View connected system tiles
Settings: View users, rename systems, disconnect systems
View: Use DW Cloud™ to view live or recorded video
Security
Secure Password Recovery: Via email
HTTPS: Open SSL, encrypted server/client/cloud connections
Email: (transport layer security)
Passwords: Complex, multi-level hash